Welcome to my EtherChain Review!
This is another cryptocurrency company with ethereum smart contracts in the MLM space and I decided to take a look to see what it's all about.
Chances are someone approached you about the business opportunity and you landed here to make sure it's legit.
The good news is I am going to walk you through the company, products and compensation plan so you can make the right decision.
Make sure you PAY close attention and read this to the end…
EtherChain Review (Company)
When you land on their website you will notice there is no information on who runs or owns the company.
I checked out the domain "etherchain.io" and found it was registered on June 1st, 2020.
Ether Chain is listed as the owner through an incomplete address in Skane, Sweden.
After taking a deeper look, I found out that EtherChain is run by CEO and Founder Andreas Kartrud.
Only reason I found out was due to an affiliate doing an interview with him.
I did find Andreas Kartrud's social media accounts so that means he is actually real.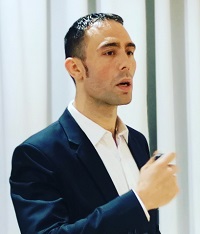 Some of the business opportunities he has promoted in the past are:
Shopping Sherlock
SwissCoin
Dominant Finance
WoToken
Up2Give
KryptoGlobe
1 Click Trading
XOXO Network
To be honest, all of those network marketing companies he has promoted are ponzi schemes…
It looks like he is running this company out of Sweden.
EtherChain Review (Products)
EtherChain has no retail products or services, but you can promote the affiliate membership.
EtherChain Compensation Plan
EtherChain affiliates invest ethereum on a promise they will get an advertised 310% ROI.
This is paid 1% per day for 310 days.
They use kind of similar scheme to another smart contract RunSage.
Referral Commissions
You can earn 10% commissions on your personally sponsored affiliates invested funds.
EtherChain Review Residual Commissions
All residual commissions inside of EtherChain is paid through a unilevel compensation plan structure.
A uni-level compensation structure places an affiliate at the top of a uni-level team, with every personally recruited affiliate placed directly under them (level 1):
Now if any level 1 affiliates recruit new affiliates, then, they are placed on level 2 of the original affiliate's unilevel team.
If any level 2 affiliates recruit new affiliates, they are placed on level 3 and so on and so forth down a theoretical infinite number of levels.
However, EtherChain caps at 15 levels.
Residual commissions are paid on the invested funds daily returns as a percentage across all these levels:
Level 1 (personally sponsored affiliates) – 30%
Levels 2 to 5 – 10%
Levels 6 to 9 – 8%
Level 10 – 8%
Levels 11 to 15 – 5%
Top Referrer Pool
EtherChain takes 5% of invested funds and puts it into this Top Referral Pool.
Every single day the funds are distributed to EtherChain's top recruiters which is based on invested amounts.
How Much It Cost To Join
The cost to join EtherChain affiliate membership is actually free.
If you want to be part of the income opportunity you must drop 0.1 ETH in invested funds.
Unlike all the other EtherChain reviews out there I am going to keep it real…
Final Verdict
Let's go through the fact.
Andrea Kartrud has run nothing but scams in the past.
I think he realized that OWNING one is more profitable than promoting one.
If you look at it simply, it's just a simple Ponzi scheme running on the ethereum blockchain.
It doesn't matter that is blockchain, at the End of the day Ponzi schemes are illegal all over the world.
Only verifiable income coming into the company is newly invested funds paying off existing members.
Once recruitment slows down, it will starve the ROI revenue and the company will go under.
This will have majority of the people losing out to a ponzi scam…[1]
I just can't recommend this.
It's a scam after all in my opinion.
Now before you go…
If you want to learn how you can take ANY business and scale it to your dreams and goals?
Partner up with us by clicking the banner below:
We will show you EXACTLY how to build a business online and customize a plan just for you.
We will help you choose a nice, setup your online business and offers that you can promote.
You can even use a network marketing company if you wish the sky is the limit.
On top of that you will get ONE on ONE mentoring to make sure you are doing things right.
Follow me on Social media below:
Subscribe To My YouTube Channel Here.
Think Rich and see you at the Top!
P.S. If you are tired of failing ANY business, click here and check this out to take your game to the next level.