Welcome to my Bit-ATM Review!
There has been some buzz about this latest company and I decided to take a closer look.
Chances are someone approached you about the business opportunity and you landed here to make sure it's legit.
The good news is I am going to walk you through the company, products and compensation plan so you can make the right decision.
PAY close attention and read this to the end because not doing that could possibly land you in a scam…
Bit-ATM Review (Company)

Landing on Bit-ATM website there is no information on who runs or owns the business.
I had a look at Bit-ATM domain ("bit-atm.net") registration on who.is and found out it was privately registered on July 29th, 2020.
They claim they have been operating since 2017, however as you can see the domain wasn't even registered before July 2020.
Big Red Flag here, they are not transparent and lying.
Let's look at the products next…
Bit-ATM Review (Products)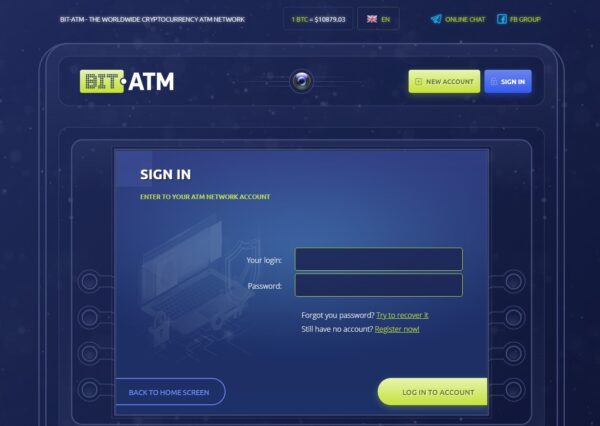 They don't have any retail product or services with all you can do is to promote the affiliate membership once you become an affiliate.
Then you can invest into the company on a promise of some good ROI…
Main focus here is investments and compensation plan…
Check this Tron Cycler review.
Bit-ATM Compensation Plan
Bit-ATM affiliates invest USD to Bitcoin on a promise of a 3% daily return…
Referral commissions are paid as a percentage of those invested funds down three levels in a unilevel compensation plan structure.
Level 1 (personally sponsored affiliates) – 10%
Level 2 – 3%
Level 3 – 1%
Cost To Join Bit-ATM
Bit-ATM affiliate membership is free.
If you want to be part of the income opportunity it requires at least $10 or 0.0009378 BTC investment.
Unlike all the other Bit-ATM reviews out there I am going to keep it real…
Final Verdict
So do I think Bit-ATM scam or not?
Let's look at the facts, shall we?
We don't know who runs or owns it and they claims they have been existed before even they have a live website on internet!
They have no retail products or services. You can only become an affiliate and recruit other affiliates.
Plus their investment income opportunity doesn't show HOW they are actually making those ROI.
The only income I see coming into the company is new investments paying off existing members.
This means it's nothing more than another cryptocurrency ponzi scheme which has plagued this industry so badly.[1]
You can BUY cryptocurrency and just hold onto it and sell high and buy low which is perfectly fine.
But these opportunities have been the biggest deception of pretending to be legal in this space ever, and almost every single one of them collapses one way around at some point.
Anyway, I just can't recommend this, Stay AWAY…
I hope you enjoyed my Bit-ATM review and if you have any questions feel free to ask in the comments below…
Now before You go…
Partner up with us by clicking the banner below:
We will show you EXACTLY how to build a business online and customize a plan just for you.
We will help you choose a nice, setup your online business and offers that you can promote.
You can even use a network marketing company if you wish the sky is the limit.
On top of that you will get ONE on ONE mentoring to make sure you are doing things right.
Follow me on Social media below:
Subscribe To My YouTube Channel Here.
Think Rich and see you at the Top!
P.S. If you are tired of failing ANY business, click here and check this out to take your game to the next level.